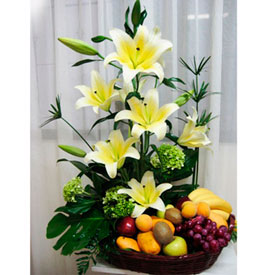 Description
Enjoy the most exquisite tropical fruits included in this elegant wicker basket, in perfect harmony with a beautiful arrangement of Lillies. Sweetness and beauty, all in one special gift!
This basket includes fruits such as: Apples, Bananas, Kiwis, Peachs, Pears and Grapes.
Elegant decoration of white Lillies.
Approximately 60 x 40 cm.
THIS PRODUCT MUST BE ORDERED AT LEAST ONE WORKING DAY IN ADVANCE.