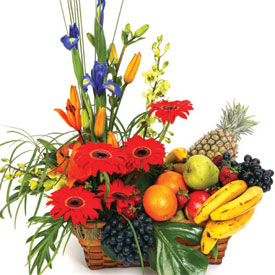 Description
Get ready to enjoy the best of what nature gives us, combined in a fabulous arrangement. Colorful fresh flowers and the most delicious seasonal fruits will arrive at the door of somebody you choose and will fill this day with joy.
Basket with seasonal fruits such as pears, pineapple, apples, oranges, grapes and other, and arrangement of Gerbera Daisies, Lilies, Iris, and ornamental leaves.
Approximately 45 x 40 cm.
THIS PRODUCT MUST BE ORDERED AT LEAST 1 WORKING DAY IN ADVANCE.