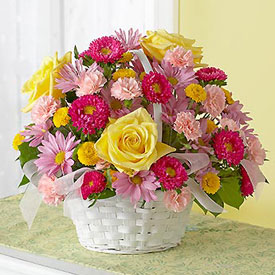 | | | |
| --- | --- | --- |
| | | This week, more than 20 persons combined these roses with balloons |
Description
You know that you'd grow a whole garden if your loved one asked you to. Today you have the chance to send that garden to their door. Make any day more beautiful with this fantastic arrangement of elegantly colored roses and assorted flowers.
Arrangement composed of roses and other assorted flowers accented with ornamental foliage and displayed in basket.
Approximately 50 x 45 cm.